Meet Our Team
We're dedicated to your pet's health.
Thank you for allowing us to care for your pet.
Inspirada Animal Hospital officially opened June 30th, 2016. Since opening our doors, our family has grown with you as our community has grown. We have also extended our business hours and added two groomers to accommodate your pet family's needs. We are committed to providing the best possible pet health care and customer service in the Las Vegas/Henderson communities.
Dr. Robert Loose
Head Veterinarian, Practice Manager
Dr. Loose is originally from the quaint town of Deland, Florida. From a young age, he knew he wanted to be a veterinarian as caring for animals was his greatest passion, and science his biggest interest.
He attended the University of Florida for his undergraduate degrees in biology and business and North Carolina State University for veterinary school where he graduated with distinction in anesthesia. His professional interests include chronic pain management, anesthesia, and orthopedics.
Dr. Loose spends his home time with his four cats Benny, Cheetah, Nugget, and Persia and spends his free time outdoors hiking, snowboarding, or golfing.
Dr. Amanda Hayes
Veterinarian
Dr. Hayes is from El Reno, Oklahoma where she grew up surrounded by animals on her family's farm and her first word was "Kitty!". Her passion for animals flourished as a child as she cared for the orphaned animals on the farm.
She attended the University of Oklahoma for her undergraduate degrees in microbiology and chemistry, and then Oklahoma State University for veterinary school where she dedicated her time to a kitten only shelter. Dr. Hayes is certified as a Fear Free practitioner and her professional interests include behavior, nutrition, and feline medicine.
She has four cats Tonks, Remus, Honey, and Fai and an axolotl Newt. She enjoys her free time painting, reading, museum exploring, and wildlife spotting.
Dr. Kortney Regan
Veterinarian
Dr. Regan is originally from San Diego, California and spent nearly every weekend growing up at the San Diego Zoo. The animals piqued her interest and fostered her knowledge of animal care and conservation. This continued through her dedicated work with the local Humane Society.
She attended San Diego State University for her undergraduate degree in biology and Ross University for her veterinary school. Her professional interests include soft tissue surgery and preventative care.
Dr. Regan has one dog, Jessie, and 2 cats, Sabre and Ozzie. In her free time, she enjoys camping, volleyball, and going to nearby lakes and California beach.
Dr. Angelina Colletti
Veterinarian
Dr. Colletti grew up in suburban Avon, Connecticut with a large family (she is one of six siblings)! She carries a piece of New England with her as she spent the majority of her young adult life living in Connecticut. At a young age, her interest peaked as her father, a small animal veterinarian) also rehabilitated wildlife. Dr. Colletti soon became immersed in veterinary medicine helping her dad as much as she could.
Dr. Angelina attended Fairfield University where she double majored in Biology and English (Professional Writing).  She furthered her education by obtaining her DVM from Oklahoma State College of Veterinary Medicine.  Her special interests include internal medicine, critical care, and wildlife medicine. 
Dr. Colletti has three dogs, Isabella (Kooikerhondje mix), Luna (standard poodle), and Giovanni (black & tan coonhound mix).  When she's away from the hospital, Dr. Colletti enjoys reading, painting, a little sunshine, and spending quality time with her fur children. 
Dr. Pamela Abe
Veterinarian
Dr. Abe was born and raised in Lima, Peru to Japanese parents. She is the oldest of two siblings. Dr. Abe came to the US at a younger age obtaining her undergraduate degree at Rutgers University in New Jersey and majoring in Animal Science and Biology. She went on to graduate from Oklahoma State University where she obtained her Doctorate of Veterinary Medicine.
Dr. Abe grew up surrounded by animals from chickens and turtles, to dogs and cats. At a young age she felt a strong bond to animals and with the combined passion from her mother being a human nurse, Dr. Abe began to understand medicine and its connection to animals.
Her areas of interest include Internal medicine and surgery, but she continuously raises the bar by keeping up with the advancements in medicine, surgical skills, and continued education.
Dr. Abe has two dogs! Enzo is a chihuahua she adopted from New Jersey and Griffin is a pit/boxer mix she adopted from Oklahoma.
During her spare time, you will find her spending time with family and friends, traveling, trying new restaurants and singing karaoke.
Dr. Jack Gamble
Veterinarian
Dr. Gamble was born on Long Island in the town of Huntington, NY. Although Dr. Gamble was raised by two Board-Certified veterinarians, it was not until he worked as a veterinarian assistant at a local animal hospital while at Stony Brook University that he discovered that his love for animals was his life's passion.
After completing his Bachelor's in Biology he then moved to the island of St. Kitts where he attended Ross University School of Veterinary Medicine. He completed his DVM following a year of clinical studies at Colorado State University. Dr. Gamble relocated to Las Vegas with his island cat, Shaia, who he rescued from the streets of St. Kitts and his dog, Zara.
In his free time, Dr. Gamble enjoys traveling, attending music concerts, and snowboarding. Dr. Gamble's special interests include surgery, dermatology, and physical therapy/rehabilitation.
Dr. Kayli Gilchrist
Veterinarian
Dr. Gilchrist was born and raised in Arlington, Texas. She attended the University of Arkansas where she obtained her degree in Animal Science and became a diehard razorback fan. She then went on to receive her DVM from Ross University School of Veterinary Medicine
She got her first pet at the age of 4, a cat named Rolly Polly, and from there she became enveloped in the strong bond that humans and animals have together. Rolly Polly lived to be one week shy of 22 years old and drives Dr. Gilchrist's professional interest in helping families keep their furry family members happy and healthy for as long as possible!
She has two orange cats at home – Oliver, and Cricket. In her free time, she likes to read, explore new outdoor adventures, and dine at local restaurants.
Dr. Meagan Leathem
Veterinarian
Dr. Leathem is originally from Gretna, Louisiana, right outside of New Orleans. While she didn't always know she wanted to be a veterinarian, she has always had a soft spot in her heart for animals and the people that love and care for them. 
She attended Louisiana State University for her undergraduate degree in Animal Sciences. LSU is also where she received her doctorate degree in Veterinary Medicine. Her professional interests include ophthalmology and diagnostic imaging. 
Dr. Leathem has an adorable tuxedo cat named Duke. She enjoys spending time with family and friends, playing sports, and cheering on the LSU tigers. 
Dr. Karine Comeau
Veterinarian
Dr. Comeau is originally from the French province of Canada; Quebec. For as long as she remembers, her dream was to become a veterinarian and advocate for animal welfare and care.
She attended St. George's University on the beautiful island of Grenada for veterinary school, and completed her last year of clinics at the University of Tennessee.
Her areas of interest are Internal Medicine, Surgery, Cardiology and Neurology, but she likes to stay up to date on all aspects of veterinary medicine.
Dr. Comeau is proud to say that she is a "cat lady" and cat mom of three cats: Honey, Tea, and Kovu. They are her children.
Her hobbies include spending time with friends, family, and her cats, traveling and shopping!
No question is too big or too small.
Our contact and hospital information is below. We're open seven days a week to make your life a little easier.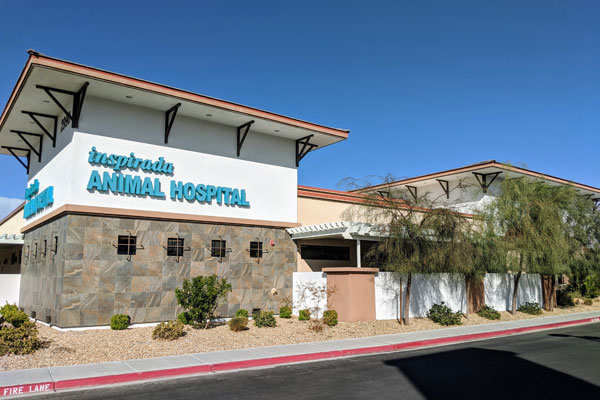 Location
2990 Bicentennial Parkway
Henderson, NV 89044
We're located in the heart of Inspirada across from Rounders, and we offer complimentary parking!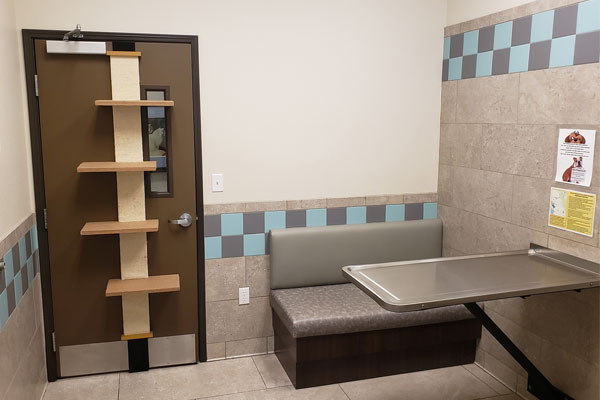 Hours
Mon-Fri: 7:00am-8:00pm
Sat: 8:00am-5:00pm
Sun: 8:00am-5:00pm

Have a question?
Complete the form below and we'll be in touch with you shortly. You can also book an appointment below through our PetDesk app!