Meet Our Team
We're dedicated to your pet's health.
Thank you for allowing us to care for your pet.
Inspirada Animal Hospital officially opened June 30th, 2016. Since opening our doors, our family has grown with you as our community has grown. We have also extended our business hours and added two groomers to accommodate your pet family's needs. We are committed to providing the best possible pet health care and customer service in the Las Vegas/Henderson communities.
Dr. Robert Loose
Head Veterinarian, Practice Manager
Dr. Loose is originally from the quaint town of Deland, Florida. From a young age, he knew he wanted to be a veterinarian as caring for animals was his greatest passion, and science his biggest interest.
He attended the University of Florida for his undergraduate degrees in biology and business and North Carolina State University for veterinary school where he graduated with distinction in anesthesia. His professional interests include chronic pain management, anesthesia, and orthopedics.
Dr. Loose spends his home time with his four cats Benny, Cheetah, Nugget, and Persia and spends his free time outdoors hiking, snowboarding, or golfing.
Dr. Tayvon Lucas, CVA
Veterinarian
Dr. Lucas was born and raised in Edgewood, Maryland where his love of animals began as a child. He attended Florida A&M University for his undergraduate degree in animal science and Tuskegee University for veterinary school. Dr. Lucas continued his schooling through the Chi Institute in China and he became a Certified Veterinary Acupuncturist. He is also certified as a Fear Free practitioner.
Dr. Lucas has 2 dogs, Prince and Khalessi; 2 cats, Bree and Arya; and a ball python, Calypso. He enjoys international travel, music, and cooking in his free time.
Dr. Aaron Gibbons
Veterinarian
Dr. Gibbons was born near Sedona, Arizona but grew up in beautiful Santa Cruz, California. Although he moved frequently, he always had his furry 4-legged family member Joey to show him the type of doctor he wanted to be. He attended Missouri State University where he obtained degrees in biology and animal science and then attended the University of Missouri for veterinary school. His professional interests include internal medicine and nutrition.
Dr. Gibbons is a devoted family man and enjoys his time off with his wife, two children, and two lab mixes. He enjoys gardening, household projects, and eating.
Dr. Amanda Hayes
Veterinarian
Dr. Hayes is from El Reno, Oklahoma where she grew up surrounded by animals on her family's farm and her first word was "Kitty!". Her passion for animals flourished as a child as she cared for the orphaned animals on the farm.
She attended the University of Oklahoma for her undergraduate degrees in microbiology and chemistry, and then Oklahoma State University for veterinary school where she dedicated her time to a kitten only shelter. Dr. Hayes is certified as a Fear Free practitioner and her professional interests include behavior, nutrition, and feline medicine.
She has four cats Tonks, Remus, Honey, and Fai and an axolotl Newt. She enjoys her free time painting, reading, museum exploring, and wildlife spotting.
Dr. Kortney Regan
Veterinarian
Dr. Regan is originally from San Diego, California and spent nearly every weekend growing up at the San Diego Zoo. The animals piqued her interest and fostered her knowledge of animal care and conservation. This continued through her dedicated work with the local Humane Society.
She attended San Diego State University for her undergraduate degree in biology and Ross University for her veterinary school. Her professional interests include soft tissue surgery and preventative care.
Dr. Regan has one dog, Jessie, and 2 cats, Sabre and Ozzie. In her free time, she enjoys camping, volleyball, and going to nearby lakes and California beach.
Dr. Stuart Ellis
Veterinarian
Dr. Ellis was raised in High Point, North Carolina. His love for veterinary medicine evolved from a career as an EMT after he graduated from East Carolina University with degrees in biology and chemistry. He assisted his twin brother, who is also a veterinarian, in a C-section delivery of puppies and knew his calling in life was to be a veterinarian. Dr. Ellis attended North Carolina State University for veterinary school and after graduation spent time as an emergency and general practitioner. His professional interests include soft tissue and orthopedic surgery, and emergency medicine.
Dr. Ellis has one dog, Brady, and two cats, Gibson and Harvey. He spends his free time with his wife and exploring the outdoors.
Dr. Kanuka
Veterinarian
Dr. Kanuka was born and raised in Alberta, Canada. She attended Concordia University of Edmonton for her undergraduate degree in biology and physics and St. George's University for veterinary school. Her professional interests include surgery, cardiology, pain management, and emergency medicine.
Her passion for medicine evolved from her interest in helping wildlife. She has a Master of Science in Wildlife Conservation Medicine and in her free time continues to work abroad with endangered species to aid in conservation efforts.
Dr. Kanuka has two dogs, Teddy and Bear. She enjoys hiking, snowboarding, and spending time at the beach.
Dr. Buck
Veterinarian
Dr. Buck was born in Midland, Michigan, and raised in Charlotte, North Carolina where he began fostering his love for animals by shadowing veterinarians.
Dr. Buck obtained his bachelor in Biology from North Carolina State University and his Doctor of Veterinary Medicine from Tuskegee University College of Veterinary Medicine. During his time at TUCVM, Dr. Buck had the opportunity to present and publish research on reptile immune function.
In his spare time, Dr. Buck enjoys designing planted aquariums and learning about reptile and small mammalian medicine. Otherwise, you can find him shopping for new clothing and sneakers, catching up on Netflix or relaxing with his pups, Harper and Hans.
No question is too big or too small.
Our contact and hospital information is below. We're open seven days a week to make your life a little easier.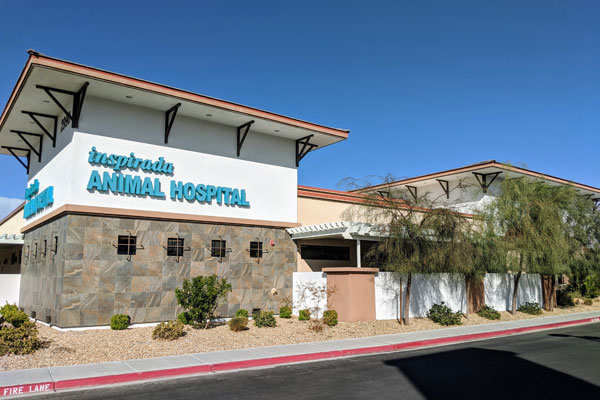 Location
2990 Bicentennial Parkway
Henderson, NV 89044
We're located in the heart of Inspirada across from Rounders, and we offer complimentary parking!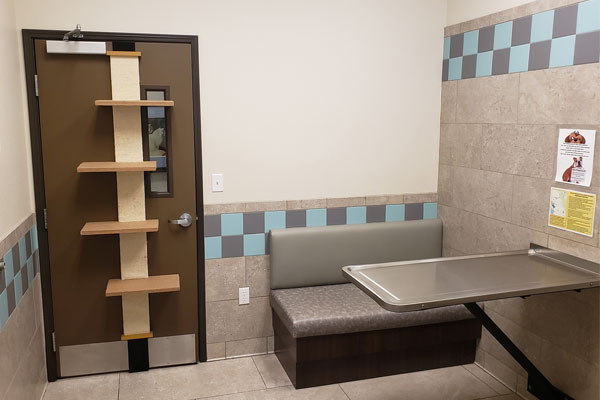 Hours
Mon-Fri: 7:00am-8:00pm
Sat: 8:00am-5:00pm
Sun: 8:00am-5:00pm

Have a question?
Complete the form below and we'll be in touch with you shortly. You can also book an appointment below through our PetDesk app!