Testimonials
Thank you for your kind words!
We appreciate you taking the time to share your feedback.
Your feedback helps our team continue to provide the best care possible. To share a review of your recent visit, please click the buttons below. If you have any questions or concerns, our team is happy to help!
Moving here from out of state, I feel so blessed that I found Inspirada Animal Hospital here in Henderson. Not only is the medical care exceptional, but the staff is equally pleasant and efficient. Appointments times are "spot on," and the facility is exceptionally clean. My dog was taken care of by Dr. GIBBONS who has certainly chosen the right profession as he is knowledgeable, caring, concerned, dedicated, and compassionate to both pet and pet owner.
I highly recommend this Veterinarian Practice – Inspirada Animal Hospital is 5-Star-Plus!
Thank you to the amazing staff at Inspirada. Unfortunately our cat was diagnosed with cancer and we were having a difficult time at another vet as they were giving us a different diagnosis with each visit. After reading such good things about this office, I decided to take him for a second opinion. Dr Loose and Dr Hayes were the only two doctors we saw but they were SO KIND, so patient and so genuine in every aspect of this tough time for our family. I asked so many questions and the doctors took their time to go over everything they could and did not rush through the appointment like other places do. They were there to make us feel the best we could before we left. They called to check on him constantly, wrote us notes when he passed and were like family to us when we had to make the decision to let our little guy go. We did not have to wait long, the entire office is very clean and the front desk ladies are just as kind. I recommend Inspirada to anyone looking for an amazing vet as they were just wonderful.
We have been boarding our dog here and they have been doing their vet thing for our dog for last 3 years and we love. They always recognize him and he doesn't get all antsy… I highly recommend this place.
From wellness check, vaccinations, follow up care and treatments, all the staff are very compassionate, professional and dedicated to their job. I personally thanked Dr. Hayes and specially to Dr. Loose for taking good care of my cat Olympus till the end and his kindness and caring words made it easy to me and my son go through a very difficult process. I recommend Inspirada Animal Hospital to every animal lovers.
Doctors who take their time with you to assess your pet and determine the course of action. Dr. Loose presented different paths of treatment and allowed me to make the decision based on what I think is the best for my pet. The staff are always friendly and never seem to have a bad day.
My Lucy loves all the great people at Inspirada Animal Hospital, especially Dr. Gibbons!
Amazing. Finally a vet's office that is extremely clean, professional and seamless. Dr. Loose was outstanding. I called in advance, was set up with an "account" and had all my records transferred. When I arrived, it was a seamless experience. The entire staff was super. Thank you so much!! I highly recommend them.
ABSOLUTELY top notch…I really can't express, from cleanliness to communication and the doctors and staff. The best! We have definitely found a new home for our fur babies.
The people at Inspirada Animal Hospital are the best, kind and caring. Our Specialty Vet prescribed a daily injection for our dog that we were unable to do ourselves. The Specialty vet was a 30 minute drive whereas it is less than 5 mins to Inspirada. They agreed to do the injection for us as a courtesy. Thank you so much and we will be coming to see a vet at Inspirada for regular treatments in the future. Again Thank You so much.
Our best vet experience yet. Staff was kind and explained all options, took great care of my senior dog. Plan to bring my other two there soon!
Thank you!
No question is too big or too small.
Our contact and hospital information is below. We're open seven days a week to make your life a little easier.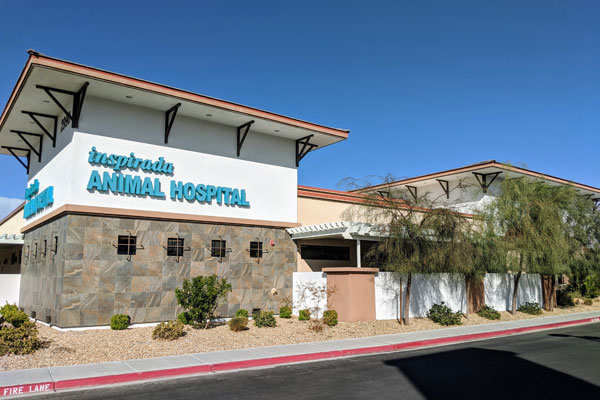 Location
2990 Bicentennial Parkway
Henderson, NV 89044
We're located in the heart of Inspirada across from Rounders, and we offer complimentary parking!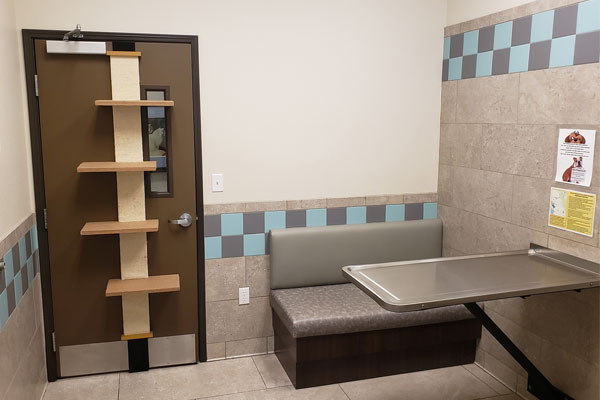 Hours
Mon-Fri: 7:00am-8:00pm
Sat: 8:00am-5:00pm
Sun: 8:00am-5:00pm

Have a question?
Complete the form below and we'll be in touch with you shortly. You can also book an appointment below through our PetDesk app!